Syncing your Story, Software and Strategy
AbacusTilt (AT) is a consulting and software organization focused on providing end-to-end solutions from concept to creation for our clients. We help with selecting the right software, matching organizational goals with resources for implementation, training, and support. Whether you're evaluating a Customer Relationship System, Content Management System, Learning Management System, or any other system… AbacusTilt will guide and support you to success.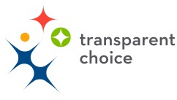 Collect. Document. Prioritize. Make decisions!
TransparentChoice is online software for PMOs that helps to manage and prioritize project requests. Our unique, powerful and collaborative prioritization features enable better portfolio decisions with more buy-in.
Simplifying the "Trio" of the Event: organizers, exhibitors and suppliers.
Every extra minute spent handling show order forms and deadlines in the exhibitor service manuals is another minute taken from strategic planning and getting the most ROO/ROI from your tradeshow experience. Every show where analytics are scattered, and the wheel must be recreated for every event, pulls the ecosystem away from operating as a single entity that's fully focused on the experience of the event. It's time to work together in one place to get the most out of tradeshows.